Garage Storage Racks | Ceiling & Overhead Racks by MonsterRax - Installed or DIY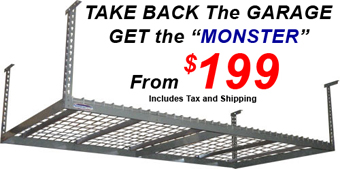 Imagine your organized and improved garage with dozens of increased feet of storage space--hanging from the otherwise under-used ceiling!
MonsterRax Hanging Ceiling Storage Racks
MonsterRax garage racks solve your storage problems once and for all. MonsterRax are made from high-grade, 14-guage steel.

They are powdercoated for durability, and all racks and parts are guaranteed for life. MonsterRax can be installed nearly anywhere, including over the garage door.
Need Overhead Garage Storage? We Install for You
We have over 75 qualified, professional installers that can install your MonsterRax for you. Our installers cover most major markets, and some smaller markets too. Our installers keep racks in stock, and can handle the entire installation for you, from start to finish.
Want to DIY Your Garage Storage Racks? Order Direct From the Manufacturer
If you would prefer to install your own hanging or ceiling garage racks, you can order MonsterRax directly from the manufacturer. Installing your own MonsterRax is easy with a few simple tools and some elbow grease. We offer easy to follow instructions to guide you.
MonsterRax - About the Product
At GarageRacks.com we have created a unique storage unit to take advantage of the unused overhead space in your garage.

Once these units are installed, the valuable floor space in your garage will be available again for your car or cars. MonsterRax racks are available in 3 powdercoated colors: white, grey, and metallic silver grey. They are made of the highest qualisty industrial-grade steel, channel-beam construction, with a center ties support to provide even more strength. The units feature:
*Heavy-duty industrial grade steel
* Weight capacity of 600 pounds (on the 4 by 8 foot size, smaller sizes naturally hold less)
* Fits anywhere in your garage
*Fits above SUVs and trucks
*Height adjust up to 45 inches for massive storage
*Galvanized wire decks
*Do-it-yourself, or professional install